Introducing an iconic piece by Andy Warhol, "Vegetarian Vegetable, from Campbell's Soup II" from our private sales.
LOT: 20190923T02
Andy Warhol [Vegetarian Vegetable, from Campbell's Soup II]
Screenprint on paper
Signed by the artist and numbered with a rubber stamp on the reverse
Edition of 250
89 x 58 cm
1969
Printer: Salvatore Silkscreen Co., Inc., New York
Publisher: Factory Additions, New York
Catalogue Raisonné: Feldman & Schellmann #II.56

Contact for price
Delivery 4 to 6 weeks
|Campbell's Soup Cans
Andy Warhol's Campbell's Soup Cans are perhaps the most well-known images of modern American art.
Warhol appropriated familiar images from consumer culture and mass media. When the paintings of Campbell's Soup Cans were first exhibited in 1962, they were displayed together like products at a grocery store.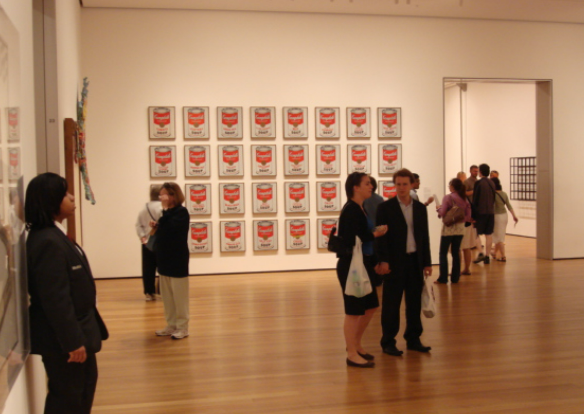 From Wikipedia; Campbell Soup Cans Series exhibited at an art museum.
At the time, Campbell's sold 32 soup varieties; each one of Warhol's 32 canvases corresponds to a different flavor.
|Screen print Portfolios I and II
After completing Campbell's Soup Cans paintings, Warhol turned to screenprint. The printmaking technique initially invented for commercial use would link his art-making methods more closely to those of advertisements. 
His famous words summarize his motivation: "I want to be a machine."
The screenprint portfolios Campbell's Soup Cans I and Campbell's Soup Cans II were created in 1968 and 1969. Each portfolio contains ten screenprints and corresponds with the paintings. These prints are Andy Warhol's most uniform and mechanical images ever produced, and this type of printmaking became his signature medium soon.
The work introduced today from the private sales is "Vegetarian Vegetable, from Campbell's Soup II." The letters "ABC" and a balloon saying "THE ALPHABET SOUP" added more pop to this piece than other soup cans.
The condition is very good despite being created 54 years ago.
If you are interested, please feel free to contact us. >>> https://curio-w.jp/en/contact/